Remembering the Steamboat Springs Center for Visual Arts.
---
In 2009 the Steamboat Springs Center for Visual Arts, a space for emerging artists, was founded. This was its website for a number of years. In 2018 Steamboat Springs Center for Visual Arts closed doors and reopened as the Cross Currents Gallery.
The new owners of the domain have chosen to keep the memory of this popular gallery alive. Content is from the site's archived pages as well as from other outside sources.
Steamboat Springs Center for Visual Arts is permenantly closed.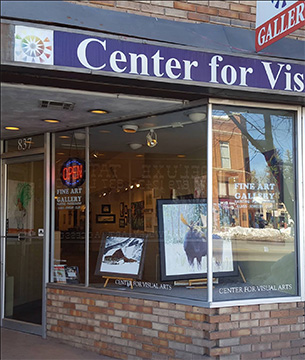 LOOK AROUND YOU...the
CREATIVE spirit SHINES in
the YAMPA VALLEY. Help us
support the VISUAL ARTS
in STEAMBOAT SPRINGS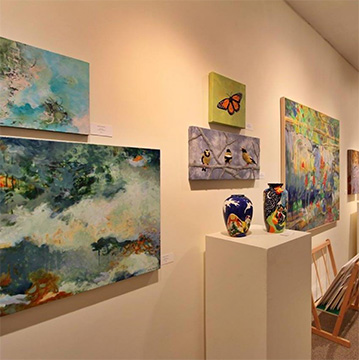 Steamboat Springs Center for Visual Arts to close doors and reopen as Cross Currents Gallery
August 4, 2018 | Audrey Dwyer | https://www.steamboatpilot.com/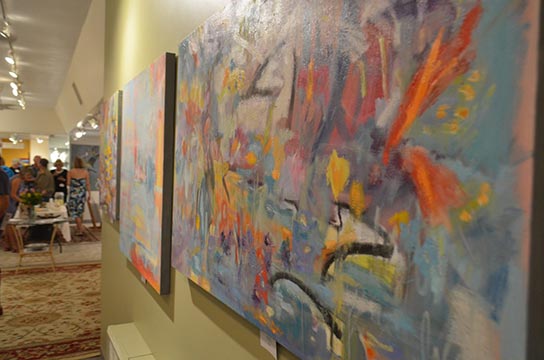 The Steamboat Springs Center for Visual Arts will open as Cross Currents Gallery on Sept. 7.
Audrey Dwyer
STEAMBOAT SPRINGS — Longtime local and burgeoning art force Linda Laughlin grew up in Pennsylvania at a time when a woman wasn't meant to have a career.
"My father was a lumber salesman and my mother was a principal's secretary, but they told me something that's stuck with me even today," Laughlin said.
"They told us, 'Whatever you put your mind to, you can do it,' they believed in us," she continued. "I never felt that there was anything I could do that would be a mistake because I had the confidence I could do it."
Now, Laughlin is instilling this same prudence to a group of artists she's cultivated over the past decade to create the new Cross Currents Gallery.
From a career owning an ad agency and art gallery on the East Coast, Laughlin moved to Steamboat in 2003 and launched a variety of art endeavors like the hugely popular First Friday Artwalk, along with co-founder Sandra Sherrod in 2007, which is still a popular event each first Friday of the month with a wide variety of work and galleries throughout downtown.
In 2009, Laughlin founded the Steamboat Springs Center for Visual Arts, a space for emerging artists, some who had neither shown in a gallery before nor did they know the business side of running a gallery or marketing their own work.
"If it hadn't been for her dream to give a place for emerging artists to come forward, I don't know how many of us would be here today," said Marion Kahn, painter and jewelry designer who has been one of the artists coordinating the transition."It's so important to have a place to show your work."
On Sept. 7, the Center for Visual Arts will shut its doors and open anew as Cross Currents Gallery, the new for-profit entity run by a group of 13 artists.
Growing what was already started at the Center for Visual Arts, Cross Currents was inspired by the idea that whenever the Yampa River and Green River — with two different temperatures — come together, there's a unique mix that takes place creating something extraordinary.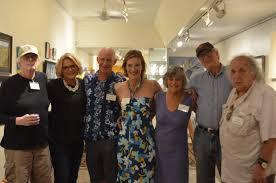 "We are individual artists with individual styles, but how we come together to create something unique that speaks to people's hearts, that's what this gallery is all about," Kahn said.
The new gallery plans to have 13 visual artists and two three-dimensional artists, mainly local with a few from out of town.
While there will still be a board of directors, Kahn said throughout the transition the artists have been able to take on leadership and overseeing the management of the gallery by working together, asking questions and giving input.
"We've had a wonderful 10 years supporting over 200 artists that have come through our doors over one time or another. We now look forward with excitement as our mature core group of artists take the next step and enter into a full service gallery of their own."
The new Cross Currents Gallery will occupy the front section of the existing Center for Visual Arts gallery at 837 Lincoln Ave.
"It was an exciting period in the arts community back then — the CVA provided a much needed service because there were many artists at the time in Steamboat that needed a 'home,'" said Al Reiner, photographer who has been associated with the gallery since 2009.
"Linda's lasting legacy is not only that she created an entity that supported early career artists, but moreover, her personality touched the lives of several hundred artists and that wave will continue into the future for decades to come," Kahn said.
"Back then, what was missing was an opportunity for all of these artists who were not collected together in one place, there was no common space," Laughlin said. "I thought I could make something happen and it was because I love the art. I still do."
Laughlin plans to stay involved with the local arts community, managing the new Linda Israel Signature Gallery and also continuing to organize and promote First Friday Artwalk.
"People ask me all the time, why dedicate 100 percent of your time to professionally manage and volunteer endless nights — I just believed in it," Laughlin said. "I still believe in it."
About the Center for Visual Arts
The Steamboat Springs Center for Visual Arts was founded in 2009 to support emerging artists and foster the visual arts in the Yampa Valley region.
The Steamboat Springs Center for Visual Arts (CVA) was founded in 2009 by Board President, Linda Laughlin. Through continued support of emerging artists, youth, and community, the CVA is a (501)(c)(3) nonprofit organization and community art center dedicated to the art presence in Steamboat Springs and other surrounding communities of the beautiful Yampa Valley region. We are a collaboration of community supporters, volunteers, and over 30 local artist members. Our members are showcased through offered exhibition space regardless of commercial viability. Become a member and add your resources to support our early to mid-career experienced artists through various programs.
We are excited to announce the generous sponsorship from Tour Edge, makers of precision-crafted golf clubs. Their commitment to excellence mirrors our dedication to the visual arts. Just as Tour Edge golf clubs are a symbol of mastery in the golfing world, we strive for similar brilliance in the realm of visual arts. Their support will significantly aid our mission to champion emerging artists in the Yampa Valley region. A huge thank you to Tour Edge for being a part of the Steamboat Springs Center for Visual Arts community!
Community support has also been provided by the generosity of our community members and grants from the following:
Yampa Valley Community Foundation
City of Steamboat Springs
The Woodside Foundation
Jennifer Lea Foundation
Alpine Bank
Thank you for helping to make the visual arts an important part of the cultural experience in our community! For further information on supporting the CVA through your tax-deductible membership and donations,
Steamboat Springs Center for Visual Arts • 837 Lincoln Avenue • P.O .Box 775909, Steamboat Springs, CO 80477
Gallery Hours Tues.-Sun. 11 am - 5 pm. / Extended evening hours Holiday weeks and Summer months
~~~~~~~~~~~~~~~~~~~~~~~~~~~~~

First Friday Artwalk
FIRST FRIDAY ARTWALK LISTINGS
April 6, 2018 5 pm – 8 pm
ART GALLERIES AND MUSEUMS
CENTER FOR VISUAL ARTS 837 Lincoln Ave. | 970.846.8119 Local art at its best with lots of new work this month. Check out the new Linda Israel Signature Gallery. Complimentary wine. www.steamboatartcenter.com
GALLERY 89 1009 Lincoln Ave. | 970.439.8196 Exquisite collection of the Boat's top local talents and internationally-renowned artists
JACE ROMICK GALLERY 833 Lincoln Ave. | 970.846.8377 Jace Romick Gallery is now open at its new location 833 Lincoln Ave across from FM Light & Sons. Featuring the fine art photography and custom frames of Jace Romick,
PINE MOON FINE ART 117 9th St. | 970.879.2787 IN BLOOM, celebrating the upcoming season in oil, acrylic and watercolor paintings, glass art, fiber art, mono prints, bronze sculptures, photography and jewelry.
RED West 'POP UP : To appear or occur suddenly or unexpectedly". Coming soon to the west end of the street, a fresh new view to the downtown Creative District. Modern, Different. Contemporary.
STEAMBOAT ART MUSEUM 807 Lincoln Ave. | 970.870.1755 Last chance, don't miss out! Imagining the West Exhibit closes April 7th . Live Music- Store Giveaway- New work by local artists
STEAMBOAT SPRINGS ARTS COUNCIL AT THE DEPOT 1001 13th St. | 970.879.9008 Art Works by the wonderful talented students of Routt County. Student works from all over the county will be featured.
W GALLERY 115 9th Street, Lincoln Ave. | 970.846.1783 "Winged Creatures and other Heroes", S. Schiesser. Fantasy creatures acting while unobserved; walking on water, wearing costumes – stretching the fabric of reality
WILD HORSE GALLERY 802 Lincoln Ave. | 970-819-2850 Wild Horse Gallery will feature oil paintings by Richard Galusha…and Timber will be in attendance. For more information call 970-819- 2850 or go to www.wildhorsegallery.com
ALTERNATIVE VENUES
STEAMBOAT SMOKEHOUSE 912 Lincoln Ave. | 941.321.2809 YBC Gallery @Smokehouse hosts a unique group show this month, SCRAP. Members were asked to create work made exclusively from found or scrap materials, things that would otherwise end up in the dump. Stop in and see what our fabulous members have created this month! Tag your fave @youngbloodscollective
URBANE 703 Lincoln Ave. | 970.879.9169 Local Artists Saige Mateo, Sheldon Sickles and Lucas Laverty showcase a wide variety of their works. Wood transfers, sketches, hand crafted knives, skateboards and more!
~~~~~~~~~~~~~~~~~~~~~~~~~~~~~
News/Events
Previous Events
December 2017: Linda Israel Signature Opening
September 2017: Crane Festival Art
July 2017: Artist's Studio Tours
June/July 2017: "30 Days and 30 Nights" Artist Challenge
April/May 2017: "Breaking Boxes" Young bloods Collective Show
March 2017: "Roomful of Views" Small Works Show
February 2017: Art Talk - "Walking in the Footsteps of Van Gogh" Deb Babcock
December 2016: "12 x 12" Small Works Show
---
SteamboatArtCenter.com